Ecology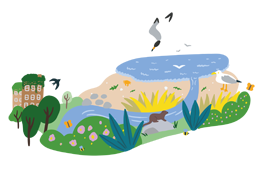 We will create an Ecological Coherence Plan (ECP) for Edinburgh using the Ecological Coherence Protocol. Working collaboratively with key organisations, we will bring together expert knowledge to map the habitat network and ecosystem services across the city. Ecosystem services are the benefits provided to us by nature from healthy and functioning ecosystems. Examples of these benefits include clean air, improved mental and physical wellbeing, and natural pollination of plants. By combining all this information with practical on the ground considerations, we will identify opportunities to provide multiple benefits for both people and nature.
We are also working to develop a Natural Capital Account (NCA) for Edinburgh. This will put a financial value on the several benefits we receive from our greenspaces and provide an evidence-based analysis of the economic and social benefits of investing in our greenspaces.
All this work will influence the future development of the city and help us to make better informed decisions. It will also build a case for generating cross-sectoral funding and will ensure that our green and blue spaces are recognised as fundamental to delivering the Edinburgh 2050 Vision of a sustainable, biodiverse and healthy city.